Semaglutide (Ozempic) Program for Weight Loss Q&A
Ozempic is an FDA approved drug that helps people to control their appetite which results in weight loss. Along with a proper diet and exercise routine, it can also lower the risk of stroke and other heart diseases. Ozempic (semaglutide) for Weight Loss is Available at En Vogue IV Therapy & Wellness. Contact us or book an appointment with our Ozempic Injections specialist, or visit our clinic conveniently located at

44 2nd Street Pike, Suite 303, Southampton, PA 18966

.
GLP-1 Semaglutide Weight Loss Programs
(Brand Name Ozempic, Wegovy, Mounjaro)
Semaglutide is a NEW, effective, FDA-approved weight loss GLP-1 that is administered subcutaneously by injection once weekly.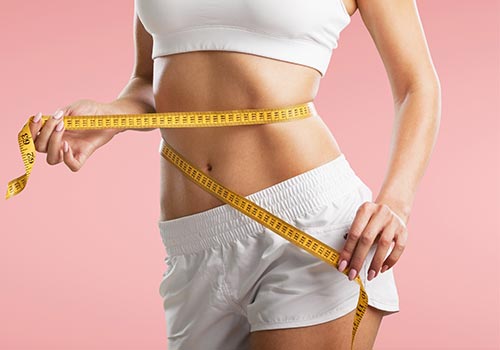 THE SCIENCE-BACKED WEIGHT LOSS PROGRAM YOU DESERVE
Because they target important underlying metabolic pathways, GLP-1s differ from older classes of prescription weight-loss drugs (like phentermine) in their ability to support long-term weight loss. They are not another temporary fix. The GLP-1's that our doctors recommend include semaglutide, which you may be familiar with under the brand names Wegovy®, Saxenda®, Ozempic®, or Mounjaro®.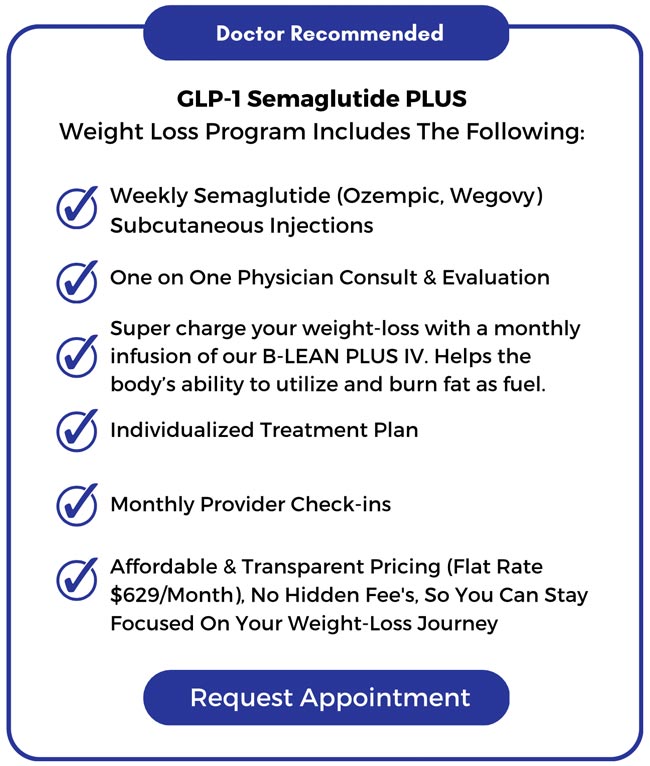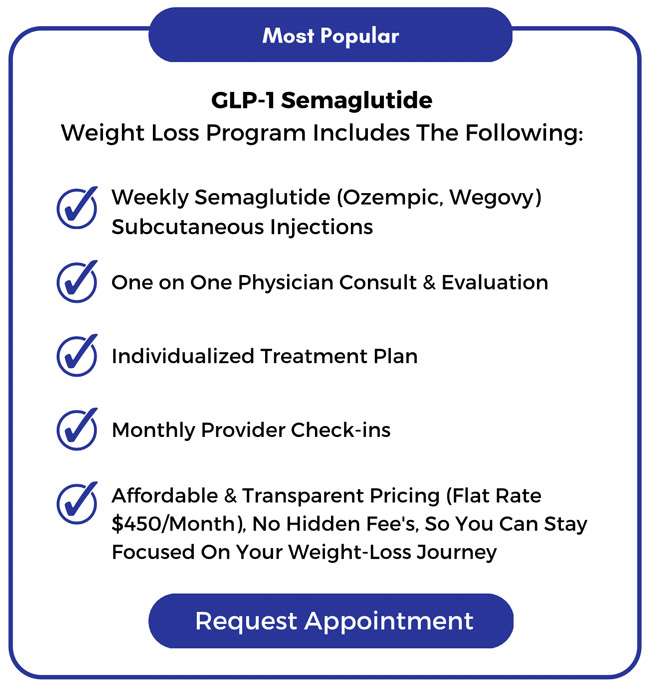 The Most Comprehensive Weight Loss Programs Available
Request your initial assessment in minutes.
Change your life today!
GLP-1 Semaglutide Injections for Weight Loss
Semaglutide (Ozempic, Wegovy) subcutaneous injections are the anchor of our weight loss packages. Studies indicate individuals may see up to 15% bodyweight reduction in the first 12 months with diet and exercise. It was approved by the FDA for the treatment of overweight and obesity in June 2021.
Delays stomach emptying. This leads to a feeling of fullness and satisfaction with smaller meal sizes.
Slows intestinal motility.
Lowers blood sugars, in part by reducing the production of sugar in the liver.
Stimulates insulin secretion by the pancreas.
How do Semaglutide Injections help you lose weight?
Semaglutide (Ozempic, Wegovy) works for weight loss because it is a GLP-1 agonist; GLP-1 is the key hormone that regulates hunger, and it slows down how fast your stomach empties food (gastric emptying). This hormone causes the pancreas to release insulin, but it also blocks another hormone that causes the liver to release sugar.
Together, these functions can significantly reduce the feelings of hunger, therefore causing a person to eat less food and lose more weight.
Are Semaglutide Injections good for weight loss?
Yes, Semaglutide (Ozempic, Wegovy) injections are good for weight loss as they can help curb your appetite. GLP-1 plays a direct role in how your appetite is regulated, such as slowing gastric emptying to make you feel full for longer. The benefits of Semaglutide injections for weight loss are that there is no restrictive diet or rigorous exercise demands.
When will I lose weight?
While individual results vary, our studies indicate that our weight-loss program members lost, on average, over 43 pounds! This may look very different from your own effects, but you can rest assured that our weight loss program is results-driven and backed by science! If you stick to your doctor's recommendations, you should notice improvements within a few weeks after starting your program. Your weight loss journey can be influenced by a number of different things, including:
Age
How much you weigh now.
Genetics and present level of physical fitness
Health issues like diabetes, heart disease, menopause, hypothyroid
Trusting The Process
Semaglutide (Ozempic, Wegovy) is effective, but may take some patience before you get the full benefit of the treatment. According to studies, most patients saw great results after 20 weeks and continued to lose weight until the end of treatment at 48 weeks. It is important to note that weight loss results can be attained the quickest when combined with a healthy, well-balanced diet and a regular exercise regimen. Although Semaglutide (Ozempic, Wegovy) injections can help you significantly lose weight, there is no replacement for living a healthy lifestyle. Regular physical exercise and proper nutrition are the pillars upon which good health is built. When combined with Semaglutide (Ozempic, Wegovy) injections, you can achieve your weight loss results quicker, and lead a healthier, more productive, and more self-confident life.
To achieve a high level of success your commitment to your individualIzed weight loss program is crucial. Keeping up with your appointments, and following all directions as provided by the physician will make the ultimate difference in your weight-loss journey! Remember, weight loss looks differently for everyone, and currently there is no magic pill that just works over night. The length of each program, and weight loss results may vary for each individual.
Am I a candidate for the program?
Weight-loss can be stressful, and we are here to help you navigate it in a safe and sustainable way. If you are over-weight or struggling with obesity we can help! The best candidates are individuals with a BMI over 30 (or a BMI over 27 with certain pre-existing conditions). For more information call or schedule an appointment online.
Who May Not Be Eligible
These programs are not as safe and/or effective for anyone who:
is currently being treated for cancer
has type 1 diabetes
has active gallbladder disease
has a history of substance abuse
has an active eating disorder.
anyone who is currently pregnant or breastfeeding
had bariatric surgery in the last 18 months.
has a history of pancreatitis, medullary thyroid cancer, or MEN syndrome.
This is not intended to be an all-inclusive list or to replace information provided by your doctor.
For more information call or schedule an appointment.
The Weight Loss Journey
When you start with our medically supervised weight loss program, we give you all the tools you need to achieve your weight loss success. You will receive the individualized support you require to lose weight and keep it off with our doctor-supervised weight loss program. Call 215-996-7847 to schedule your consultation at our weight reduction & wellness clinic in Southampton, Pennsylvania.
Maintenance Program
We will design a personalized maintenance program for you once you've reached your goal weight to help you keep it off and carry on leading a healthier lifestyle.
Is Insurance Accepted
While we do offer the most competitive pricing for our weight loss programs, insurance is not accepted.
How to get started?
The first step is to contact our team of experts to help determine if you may be a candidate for the program, and to schedule your intial visit with one of our leading physicians. A certified medical doctor will sit down with you to review your BMI and health history, your personal diet and exercise routines, answer any questions you may have, and craft your customized weight loss plan with prescription medication.
We will educate you on any contraindications and possible side effects. Additionally, We may recommend nutritional guidelines and increased activity workouts. The provider will also review your short and long-term goals to recommend the best potential treatment options.
En Vogue IV Therapy and Wellness then partners with you to create a goal-oriented, personalized health and wellness plan tailored to you. With our packages, you have the option to meet monthly to discuss dosing, diet, and other changes which can enhance your results.
"Our clinic focuses on health & wellness, we are dedicated to helping you lose weight in a healthy, safe, effective, and sustainable way."
You CAN lose the weight, and keep it off for Good – We can help!
Request your initial appointment today!
or
Call (215) 996-7847
Request your appointment, get prescribed, and start losing weight. Change your life today at En Vogue IV Therapy & Wellness with our Ozempic injections for weight loss. Contact us or book an appointment with our Ozempic Injections specialist, or visit our clinic conveniently located at 44 2nd Street Pike, Suite 303, Southampton, PA 18966. We look forward to serving you! We serve patients from Southampton PA, Willow Grove PA, Horsham PA, Levittown PA, Langhorne PA and Warminster PA.